Arthur

Aneta asked our Foundation for help when it turned out that her youngest son, Arthur required surgery and possibly a long-lasting rehabilitation-oriented undertakings due to cranial suture synostosis. Arthur has a disability certificate. Fortunately enough there is a chance for him to lead a healthy life in the future, but further procedures require a lot of funds that Aneta's family is simply unable to collect. The mother also takes care of her 11-year-old son, Gabriel – the boy suffers from the innate deprivation of motoric and mental functions that has been manifesting itself in the form of breathing difficulties, sight impairment, and speech impediment. The child requires constant care and has received a disability certificate as well. Similarly to every other mother, Aneta has been fighting for the health and proper development prospects for her children, but she has been suffering from many concerns as well. Since she was 14, she has been struggling with drug-resistant epilepsy accompanied by tonic-clonic seizures. During her seizure episodes that are unexpected in nature, she frequently loses consciousness and suffers severe body damages. She has been hospitalized in relation to her seizures and during one episode in 2007, she burned her hand, so the transplantation of the skin from her leg was required. Aside from epilepsy, Aneta also has to deal with the ulcerous illness of stomach, and both spine discopathy and deformation. Even though she has been through a lot, she still has determination to overcome all the difficulties on her way. Nevertheless, costs of Arthur's treatments are far beyond what Aneta and her partner Peter are capable of covering and that is why the entire family has been covered with the support provided by the Foundation.  
The charity registration number is: 0000695388 and can be verified through government official (GOV) website at:
https://ekrs.ms.gov.pl/web/wyszukiwarka-krs/strona-glowna/
Please check off the second checkbox and enter the above numer in the KRS form field. The others fields you can leave empty. 
Bringing up two disabled children while not being fully able oneself requires a lot of determination. Aneta has been stating that the key thing for her is to collect funds required for the treatment of tiny Arthur. The boy was born on 5th January 2020. It has turned out that he requires a professional treatment due to craniosynostosis (it is the medical term for cranial suture fusion) – it is an innate defect that, while untreated, may make it impossible for the head of the baby to develop properly, which will in turn result in a severe deformation and complication risk. A surgery is vital and will be performed within the scope of the NHS-based program, but Aneta and her family are not capable of paying for a series of expensive examinations preceding the procedure. They are all performed at the unit the surgery is to take place, but they are all executed for a significant fee. A cardiologist, optician, neurologist, and neurosurgeon. It is only a short list of professionals Arthur has to visit in order to fully recover. Both his health and future are strictly connected with funds the family does not have and without which a proper treatment may turn out to be impossible. Aside from examinations and rehabilitation, we also have to take into account commutation costs and accommodation-related fees for both Arthur and his family. Up to this point, all medical tests have taken place mainly in Katowice and neighboring cities. The surgery proper, however, is to take place in Olsztyn rather than in Katowice as initially planned. Such a decision has been made by a professor being medical expert supervising Arthur's case. Said expert is also going to perform the surgery in Olsztyn.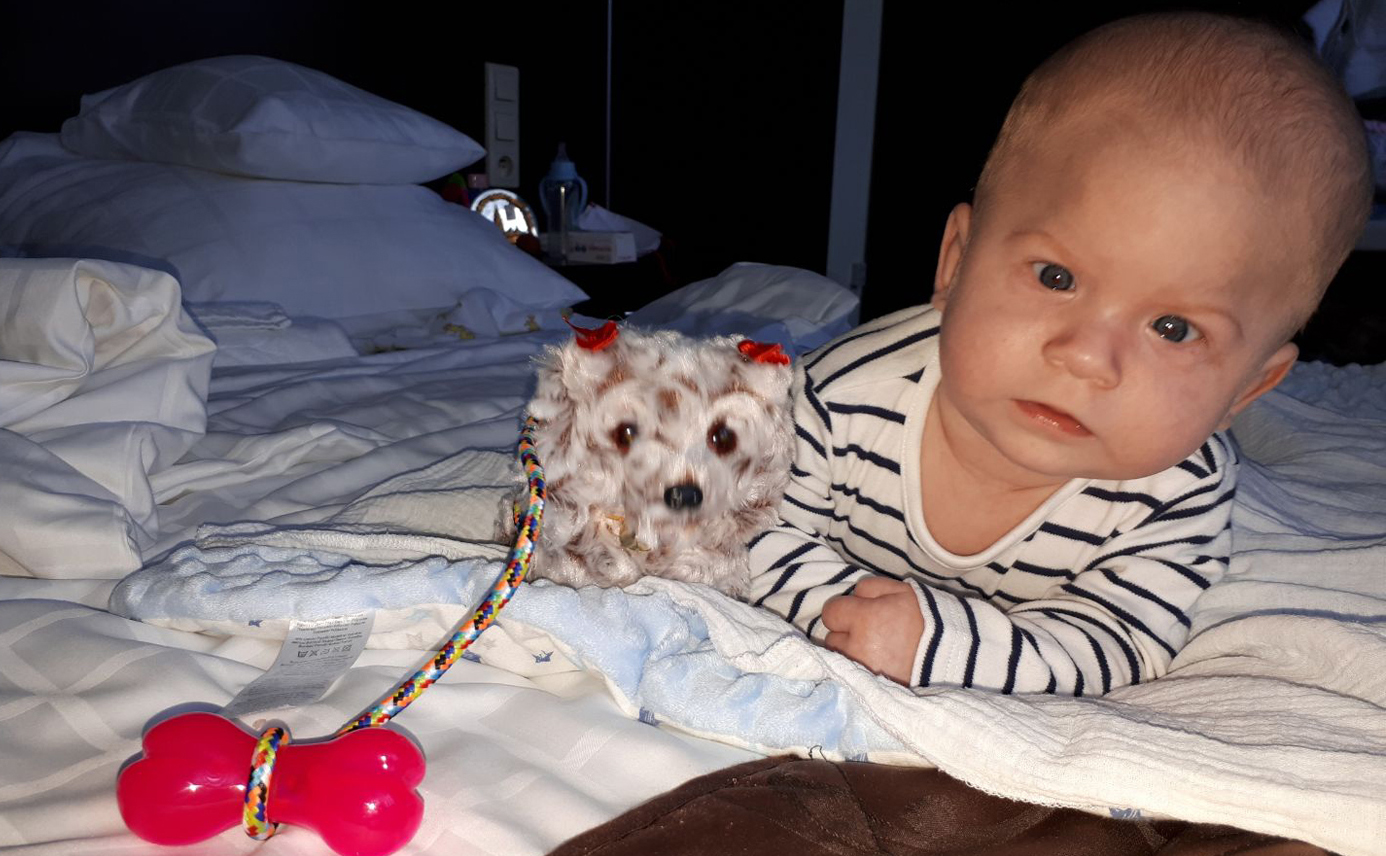 Costs of treating Arthur are one thing, but we also have to account for everyday needs, including the necessity of taking a proper care of 11-year-old disabled Arthur's brother, covering all the basic fees, and settling down the uncertain accommodation-related status. Taking care of two ill children, having no financial support, and being unable to fulfill all the basic needs of the family – that is how the situation of Aneta looks like as of currently. She also has to provide Arthur with basic items, such as modified milk, hygiene-related goods, and all the other stuff that is required to take care of a newborn baby. The family lacks household detergents and items of clothing, as its representatives do not have enough funds to purchase them. Covering the costs of a rented flat, paying fees and taxes, as well as purchasing basic goods has been draining the family's already modest budget.
We know that we can count on you. Together, we can help Arthur recover, as well as lead a better life in the future. Aneta's family knows all too well what disability is – not everything can be fixed, but together we can prevent a tragedy and save Arthur's head from complications and further deformations. We truly believe that we are a single step away from improving the situation the family has found itself in. Let us fight for a better future of Arthur, but let us not forget about other family members: Gabryś, Aneta, and Peter.
Even though the surgery itself is founded by the NHS, costs connected with trips to the unit for Arturek to undergo examinations, as well as with the examinations themselves are overwhelming.
Needs we collect funds for:  
Covering the costs of examinations and consultations required both before and after the surgery.
Covering the costs of Arthur's rehabilitation before and after the surgery - longterm.
Covering costs of stay, provisions, and commutation of both the child and his parents to the unit where examinations and the surgery are to be performed. The family lives in a different city.
Buying widely-accessible medications and those prescription-only ones – we realize said needs on the ongoing basis.
Foodstuffs for the entire family, including milk for Arthur.
Diapers for Arthur. – We provide them regularly. 
Clothes for Aneta and her children. Sizes of clothes and shoes, Gabryś: shoes, size 35, clothes at 164 cm, Arturek: sizes from 62 up, Mrs. Aneta, size of clothes, S, footwear, size 37.

Portable computer for Gabryś.

- Provided.

Printer - it will be of use while printing and scanning medical documentation, as well as will be of help with regard of educational endeavors of the older son.

- Provided.
Rehabilitation trike for Gabryś – such a bike is perfect for children with balance problems and movement impairments. It also stimulates both muscles and bones, as well as boosts blood circulation during the ride and makes the body stronger overall.
Orthopedic shoes for Gabryś. – Orthopedic footwear makes it easier to move, stabilizes proper body posture, and prevents the further deformation of the legs of the kid.

A professional rehabilitation table for Arthur

– A rehabilitation table is a professional medical equipment that is aimed at ensuring safety and comfort while Arthur exercises together with a rehabilitation expert. Below, there are photos showing bold Arthur exercising on a simple table and bed. - Provided.

Tomatic Method-based neurologopedics therapy apparatus

– Arturek requires a comprehensive neurologopedics-related therapy, as a doctor diagnosed him with a lowered muscle tension that results from the improper functioning of the orbicularis oris muscles, the lack of proper tension of cheek-surrounding muscles, the limited mobility of both tongue and jaw, as well as the improper tongue movement coordination.
The patient in question was qualified for Tomatic Method-based treatment that is based on stimulating the brain with music and voice. - We have paid for renting Arthur's hearing aid for two years.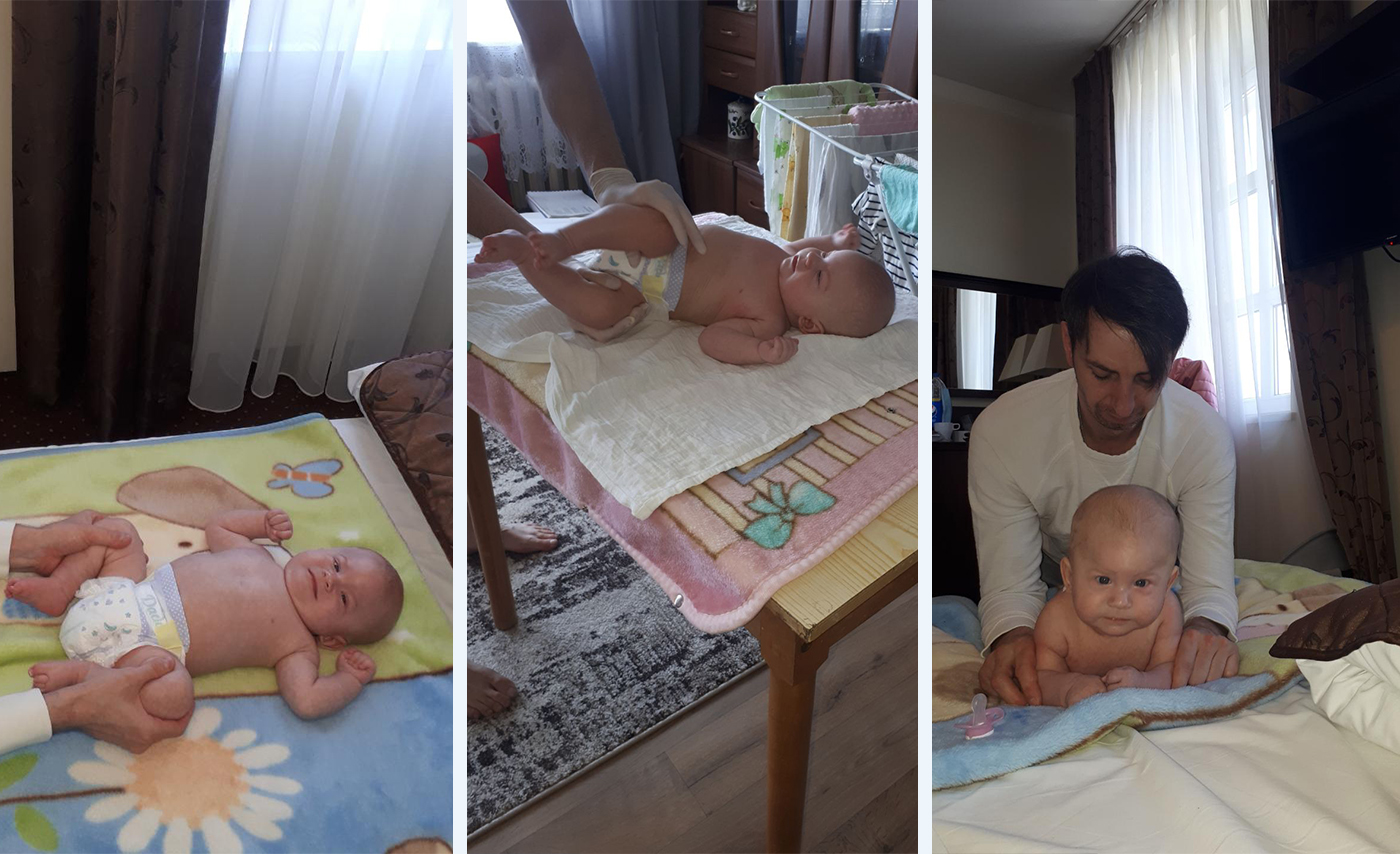 Now, he exercises like this, using a professional rehabilitation bed :) 
Or you can make a direct bank transfer "For Arthur":
Bank details:
mBank S.A.
Skrytka pocztowa 2108
90-959 Łódź 2
BIC/SWIFT: BREXPLPWMBK
SORT CODE: 11402004
Account number depending on currency:
PLN: PL35 1140 2004 0000 3002 7709 9827
USD: PL39 1140 2004 0000 3612 1128 1047
GBP: PL92 1140 2004 0000 3812 1128 1062
Euro: PL63 1140 2004 0000 3112 1128 1054
Before making the donation, please familiarize yourself with our terms.
The Foundation is in possession of proper documentation and has verified the needs of the Protégé. 
17-07-2020 - Last week another boys' visit to a neurologist was held. :)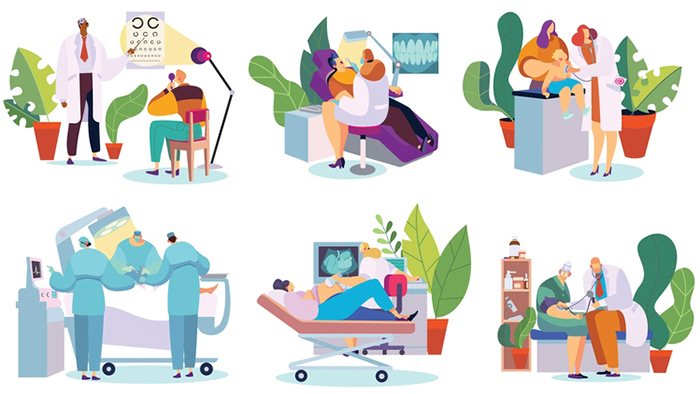 03-07-2020 - Arturek underwent yet another doctor's appointment. He visited a neurologist. Said visit was exceptional in nature :). This time, the boy was accompanied by his older brother, Gabryś. :)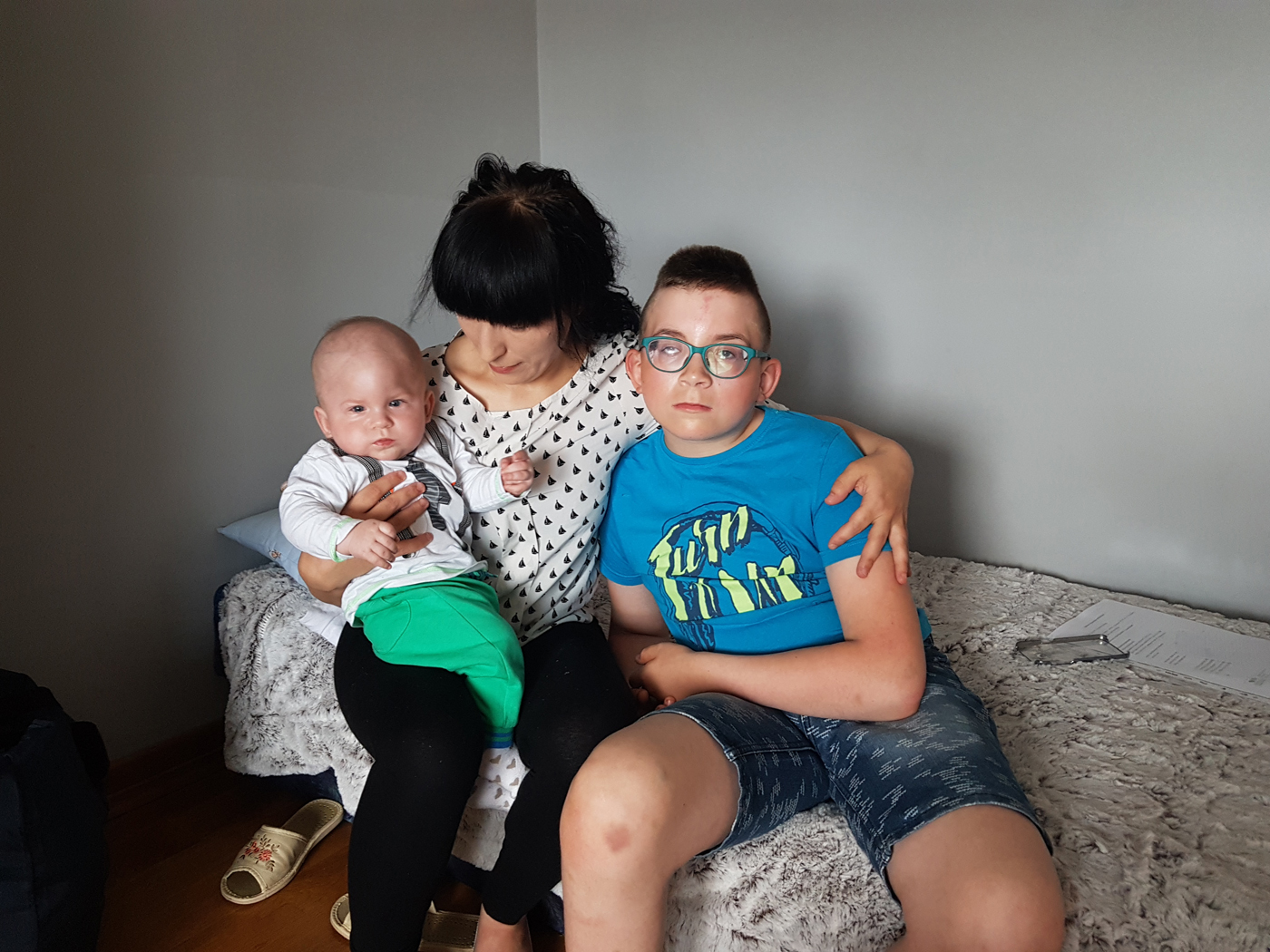 26-06-2020 - During our last examination-oriented trip to Katowice that lasted from 14th to 18th June, Arturek visited not only a neurologopedics expert, but also the professor who will be responsible for performing Arturek's surgery. The small patient also underwent the frenectomy treatment. In the photo, he can be seen together with his mother in physician's office, right before the procedure, and Arthur on the way to the examination and with the doctor neurologist. :)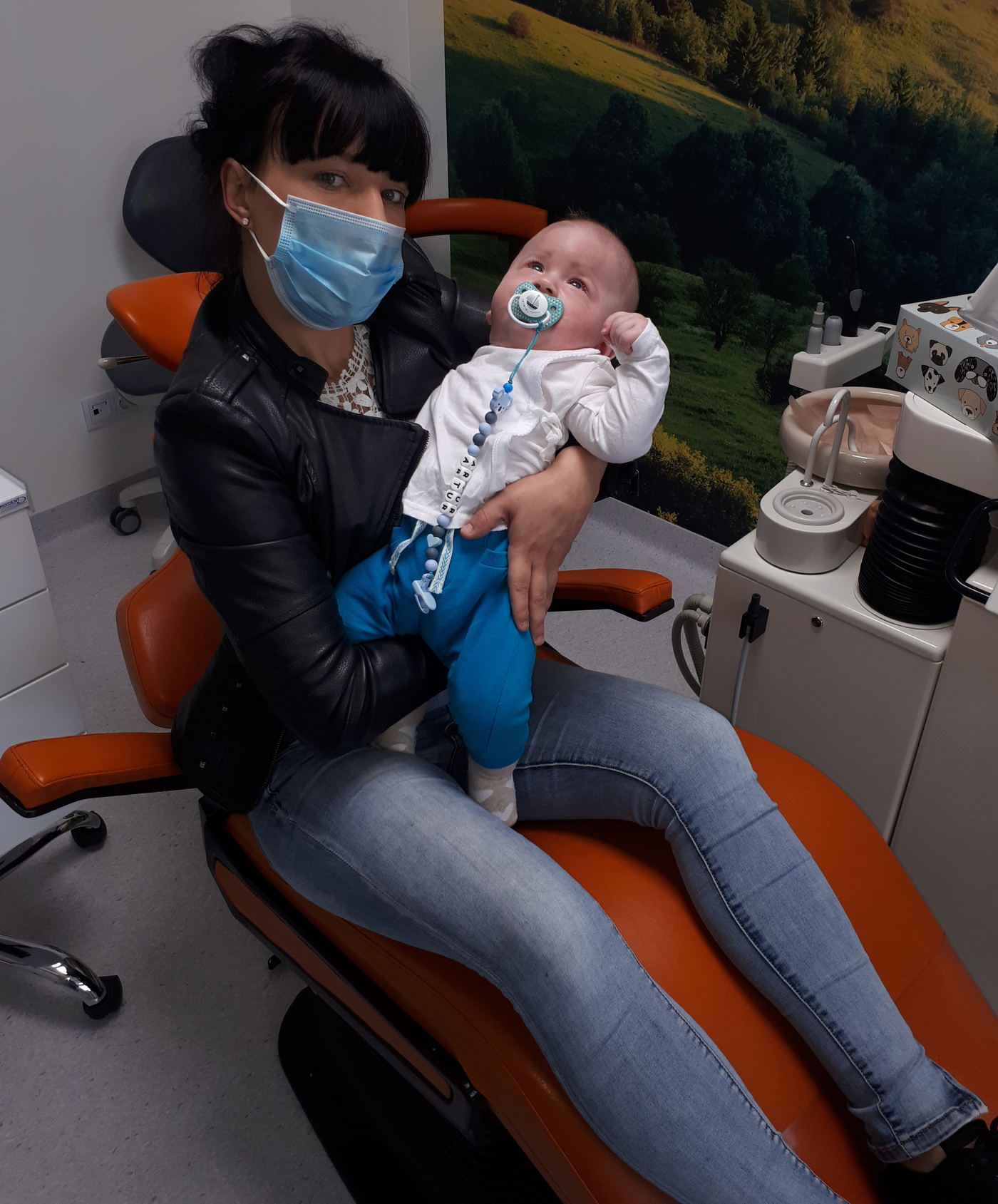 10-06-2020 - We have provided  a proffesional rehabilitation table for Arturek.
07-06-2020 - Our brave Arturek, in the passing week was once again on medical examinations in Katowice. We present photos from visits to the neurologist. It has been third trip the family has had to take in order for the small Arturek to undergo consultations and medical examinations that are required before the surgery. The cost of the trip has been covered by our Foundation. The stay, provisions, commutation costs, and examination-related fees have been covered by the Foundation.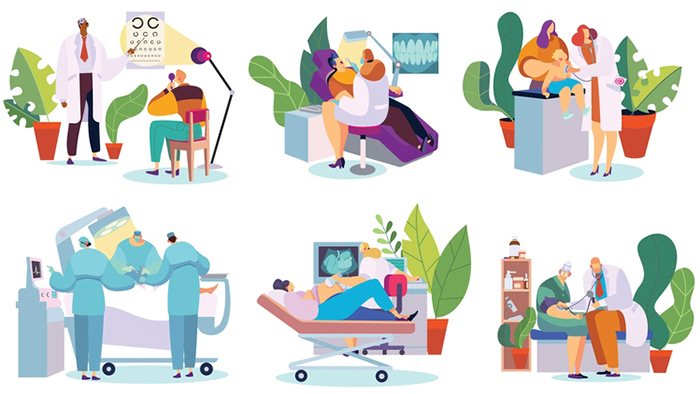 22-05-2020 - Our youngest and cutest Protégé would like to wish you all a good weekend:). You will surely agree with us that the inscription on his shirt saying "Handsome" is certainly right. :).
21-05-2020 - Arturek is a tiny hero. He deals with all the examinations and consultations in a remarkable manner. We would like to show you pictures of him from two weeks ago with his mom next to a doctor's office and inside it, on the Professor's lap :).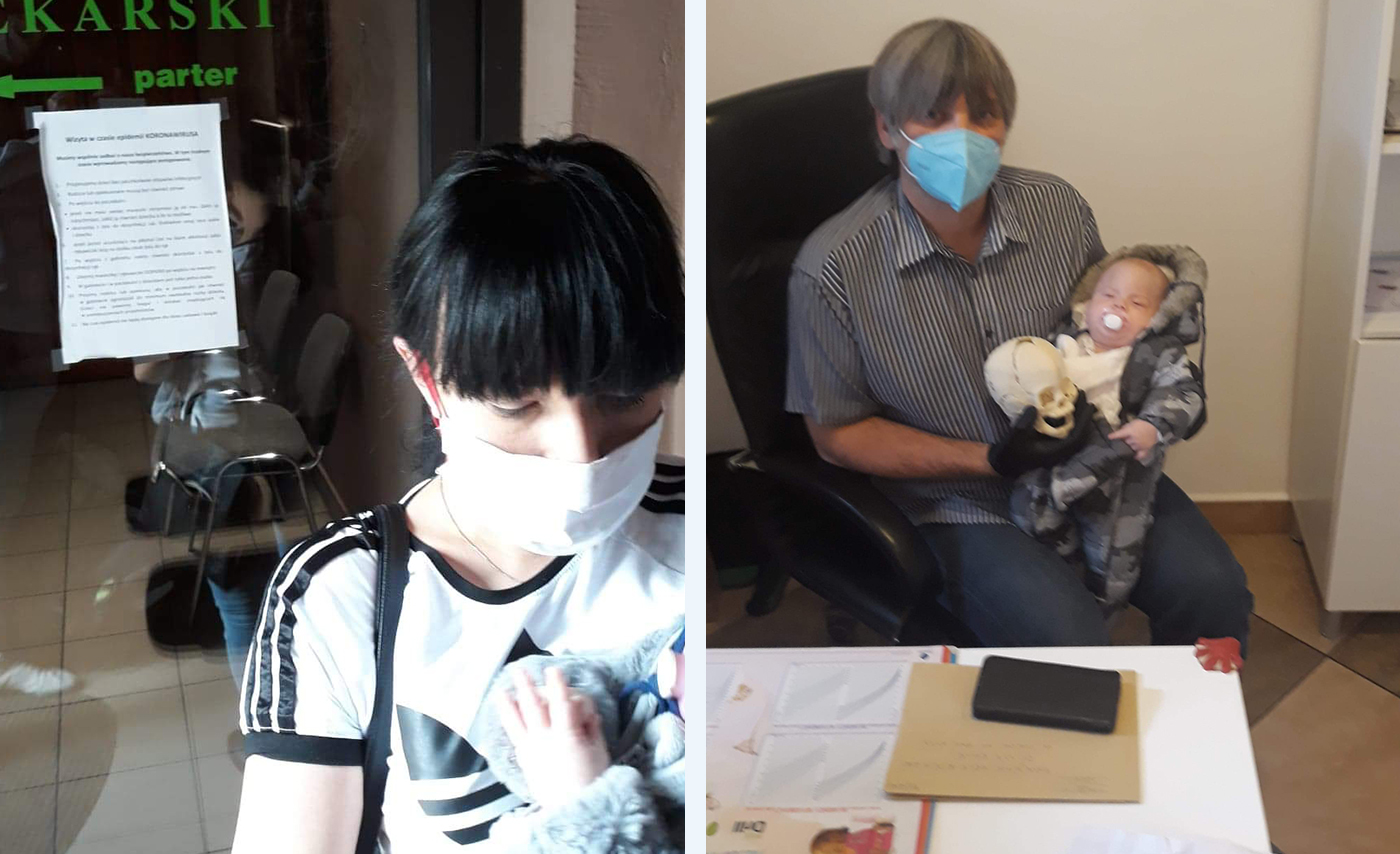 06-05-2020 - We have provided Arturek and his family with more foodstuffs. We have also purchased some diapers and domestic detergents.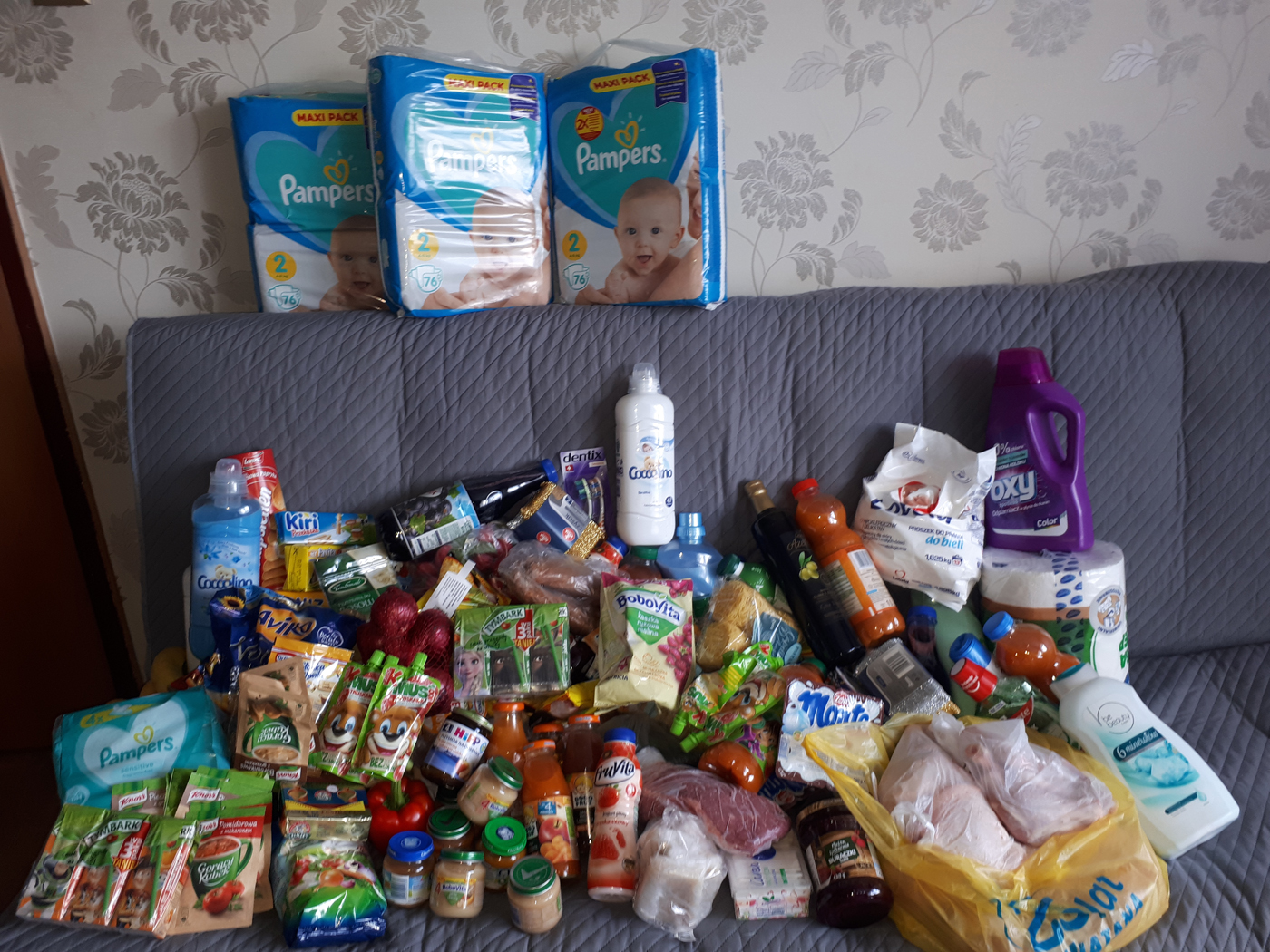 05-05-2020 - We have provided Arturek's family with a color printer and a batch of cartridges.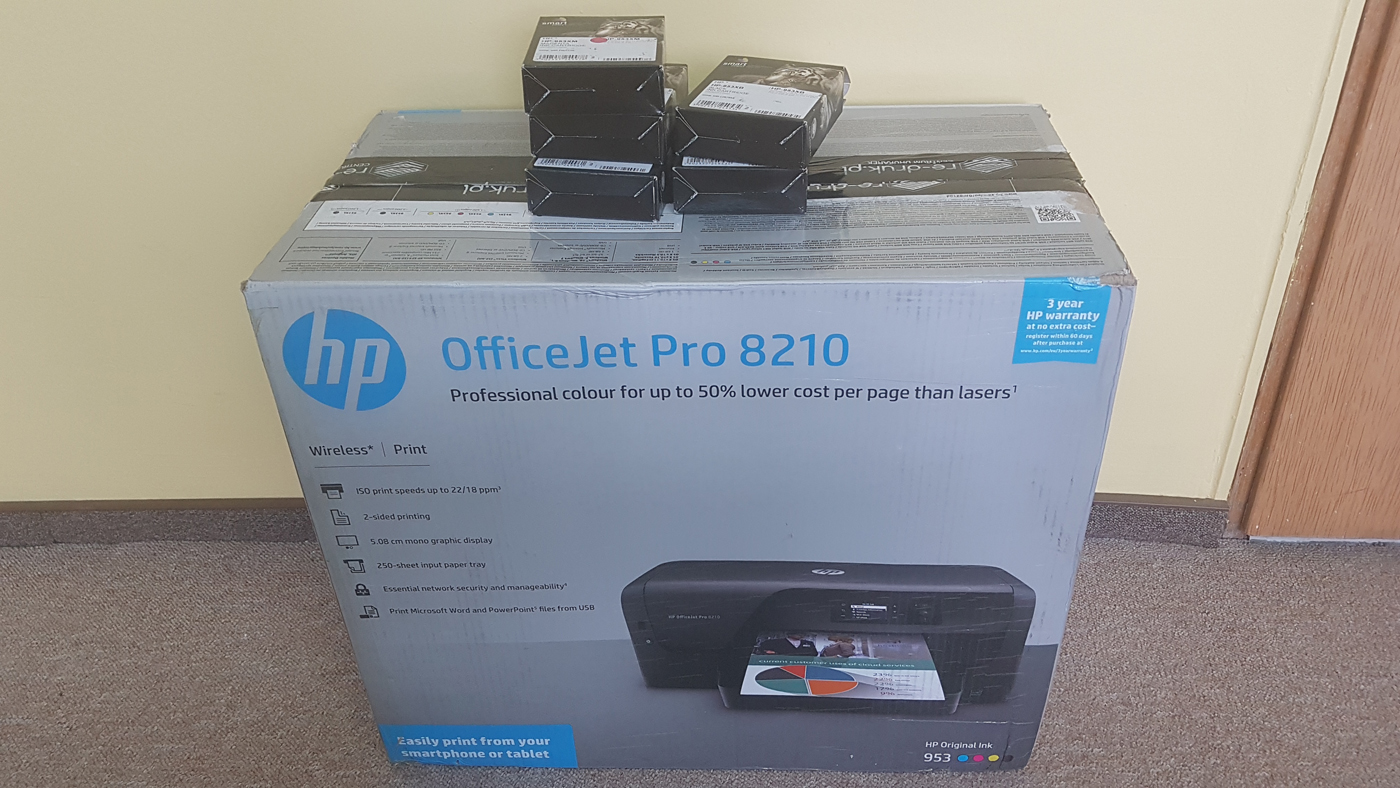 01-05-2020 - In the photo Arturek is smiling to all the Donators and is thanking them for help. He is so adorable :).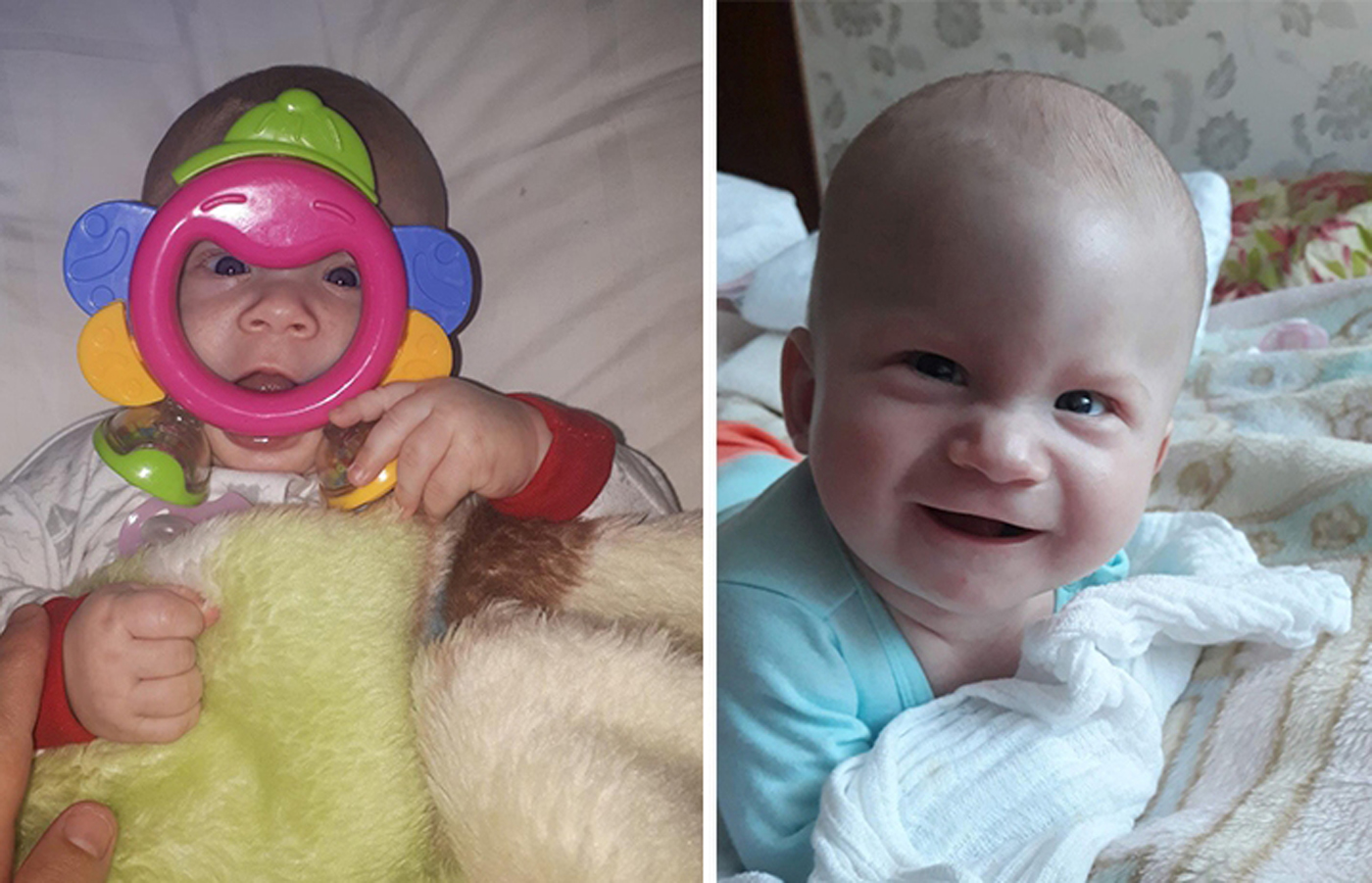 30-04-2020 - Arturek, together with his parents, returned home on last Friday after a long and tiring week, filled to the brim with consultations and medical appointments. Below, there are photos of his stay in Katowice.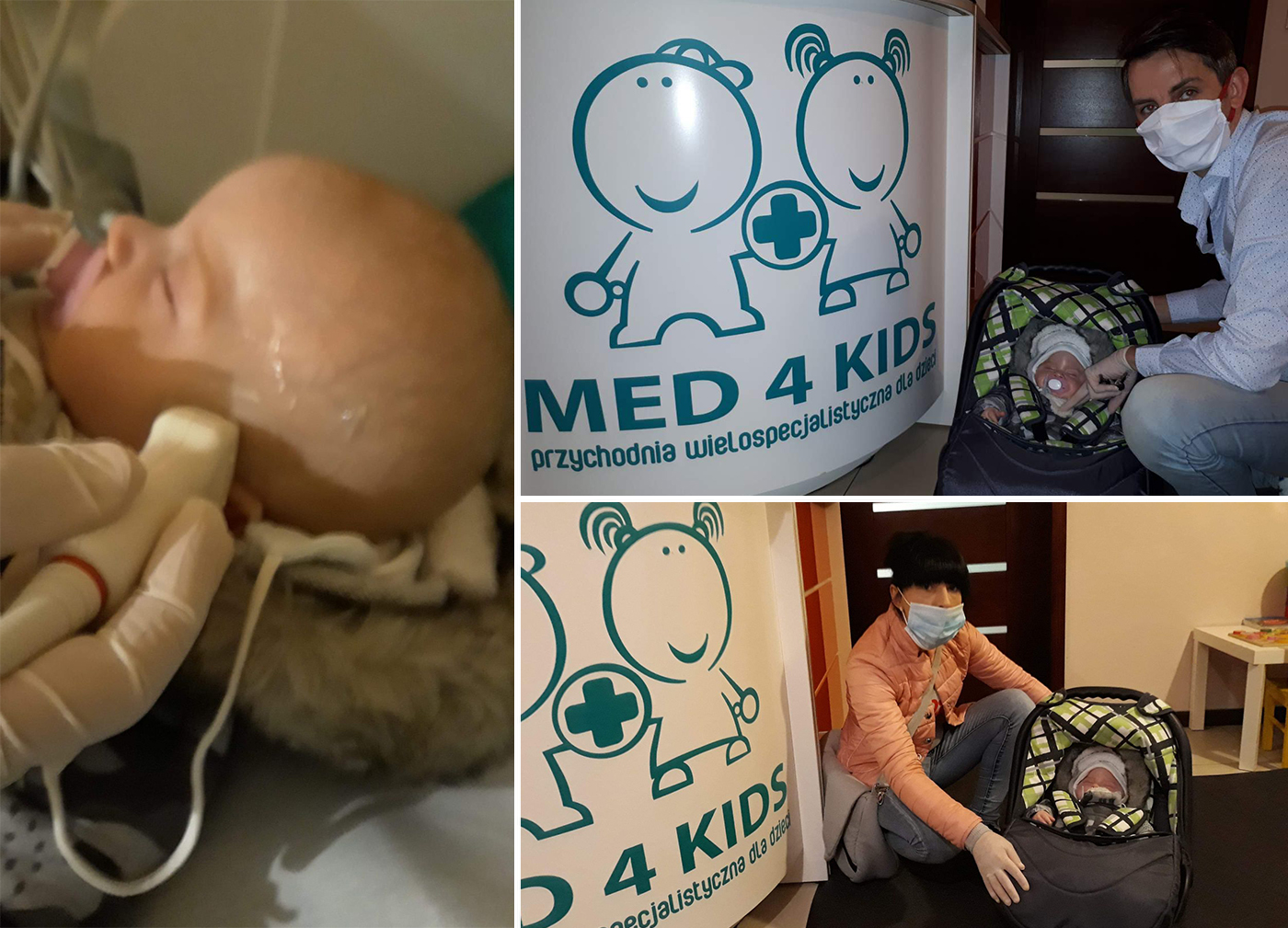 22-04-2020 -  Since Sunday, 19.04.2020 Arturek together with his parents has been in Katowice, where he has been undergoing a set of examinations that are vital for him with regard to the surgery. He has already been examined by an optician, underwent the ECG procedure, heart echo scan, as well as transcranial Doppler test. There are still some things to take care of remaining, but everything is on the right way :)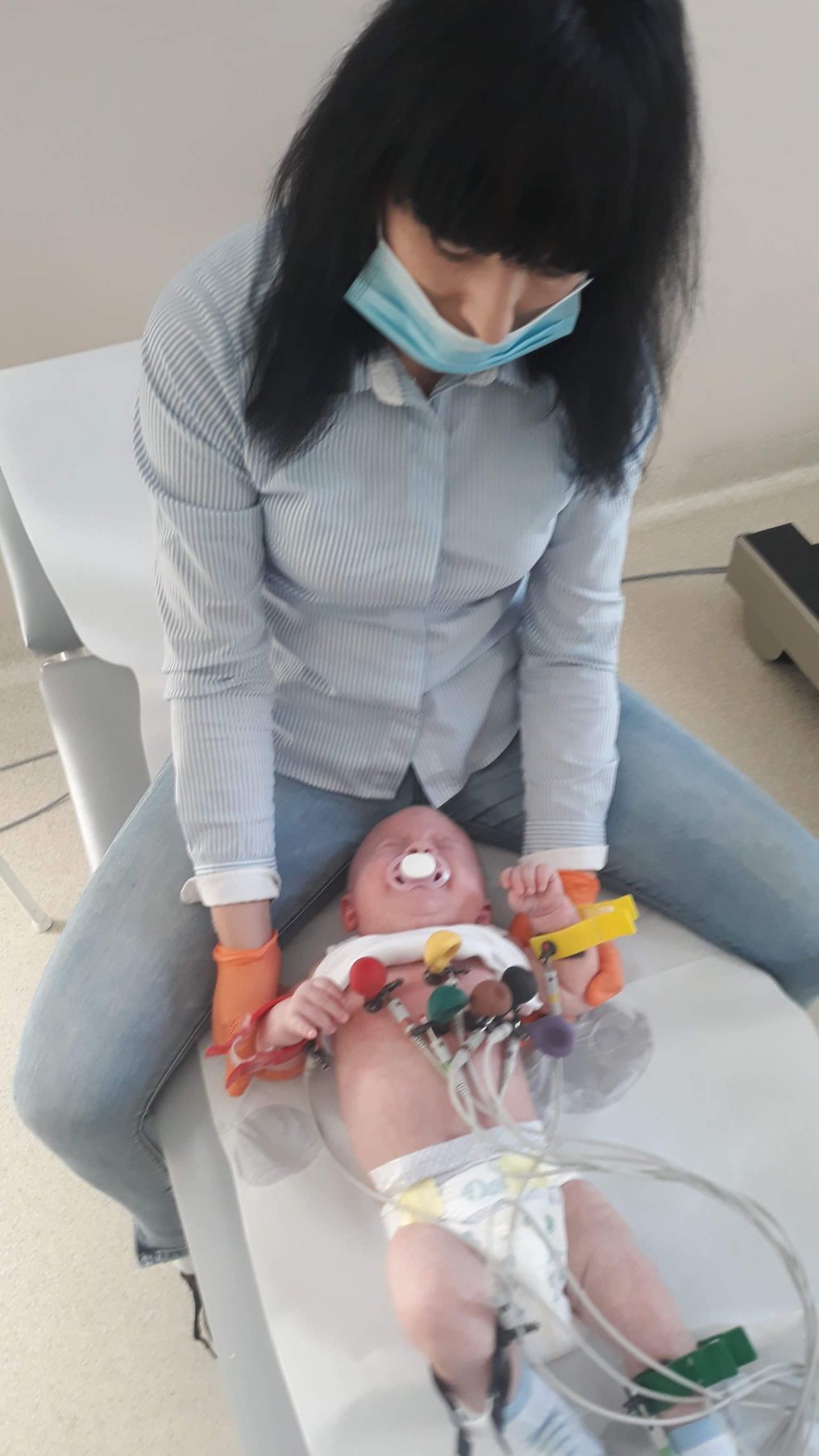 17-04-2020 - We have helped the family of small Arthur to purchase additional foodstuffs and medications.
10-04-2020 - We have provided a laptop to the older son of Aneta, Gabryś. He can now learn remotely without the necessity of leaving the house.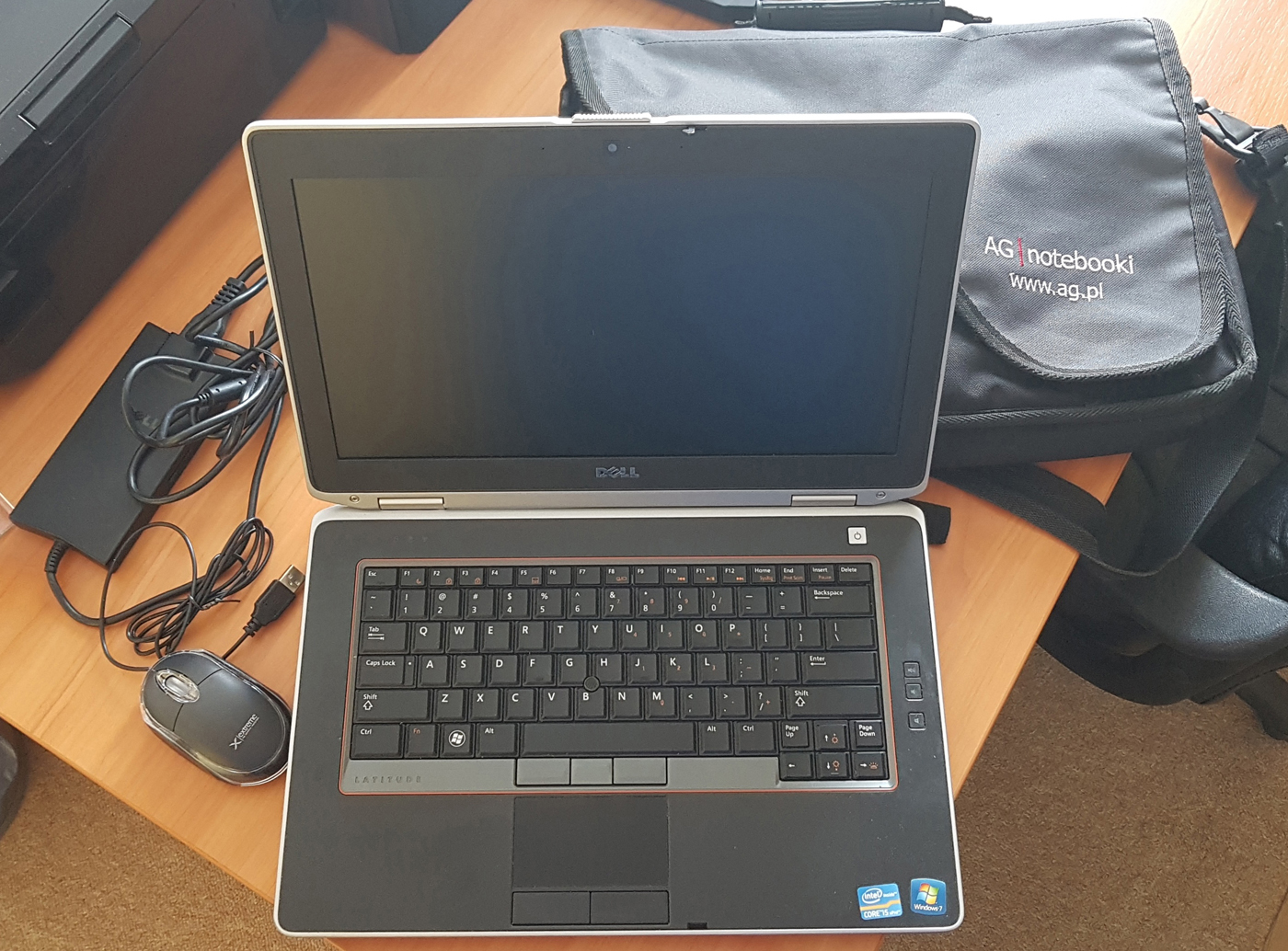 08-04-2020 - We have provided the very first batch of items to Arthur and his family. It has included foodstuffs, chemical products, and medications.